PRAVEEN CHAKRAVARTY
June 10, 2020
India Inc praised Rajiv Bajaj in private for speaking up, but chose to incur losses for three full months than criticise the Modi government for its lockdown.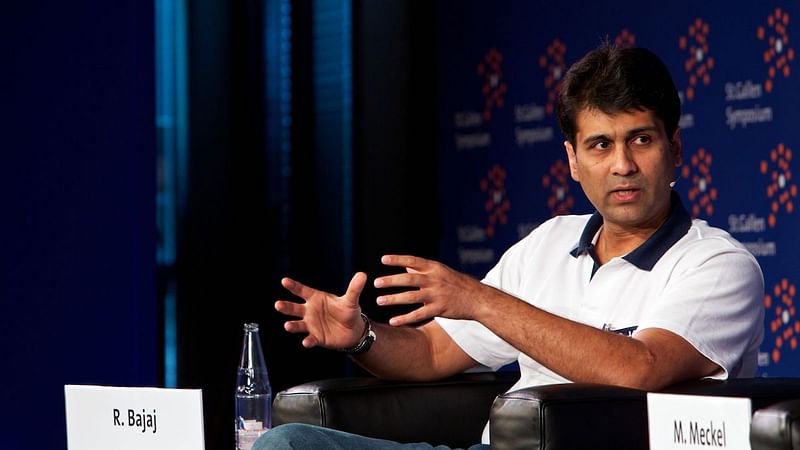 Lot of people don't speak up out of fear, but the question, is fear of what?' asked the industrialist Rajiv Bajaj in a recent conversation on India's handling of the coronavirus crisis with Congress leader Rahul Gandhi. This particular video clip was shared widely in private WhatsApp groups of India's corporate honchos, with abundant praise for his candour. Ironically, they were lauding Bajaj's exhortation to be fearless and to speak up, in private chat groups and not in public.
It is undeniable that an atmosphere of fear and dread has engulfed the elite of India over the past five years. The weaker sections of our society have never truly broken free from the clutches of the heavy state and have always been at its mercy. What has changed during the Narendra Modi government rule is that now, the privileged have also been forced into bonded living, unable to speak their minds. (Evident in how, for fear of being tapped, WhatsApp is their chosen medium for phone calls).
A poor woman in Samastipur village in Bihar was always coerced into obeying diktats of district officials for fear of being denied her share of government welfare. Now, a rich industrialist in Mumbai is also being forced into singing praises of the government and demonstrating proof of obedience by banging utensils and photographing it, for fear of being probed or denied a government order. The rich Mumbai industrialist is now on a 'level playing field' with the poor lady in Samastipur. At least when it comes to personal freedoms, the wide inequality between the rich and the poor has been bridged successfully by the Modi government, not by making the poor richer, but by making the rich poorer.
A heavy price
It is no secret that every industrialist grumbles and sulks in private while being pretentiously cheerful in public over the draconian lockdown measures of the Modi government, which have devastated their businesses. It is puzzling that these business people, known for their obsessive self-interests and reputed for rational decision-making in a 'costs versus benefits' framework, are bearing the brunt of Prime Minister Modi's decision and yet choosing to remain diffident and silent. Surely, it cannot be the case that the costs of speaking up exceed the costs of a total shutdown of their businesses?
Let us suppose that in March, after Modi imposed a sudden and extreme lockdown in India to tackle Covid-19, industry associations or a group of industrialists had mustered the courage to tell the PM, either in private or in public, that an extreme lockdown in a country like ours will yield no health benefits and only saddle us with enormous human and economic costs. Or after Lockdown 1.0, they could have voiced their opinion that extending the lockdown is foolhardy.
Under the minuscule chance that Modi would have taken their concerns seriously and reversed his lockdown policy, their businesses would have fared much better than the current state they find themselves in. A complete shutdown for nearly three months is an enormously expensive proposition for most businesses. Speaking up to prevent a total shutdown would seem like a chance worth taking for these industrialists who are so attuned to making decisions in a 'rational expectations' paradigm, yet they did not. As Bajaj asked, what exactly is it that they fear?
By choosing to remain silent, India's industrialists have signalled that their cost of speaking up in the form of tax harassment, denial of government permissions, unlocking of skeletons in their closet, etc., are even greater than the costs of shutting down their businesses entirely for three full months. In which case, one can only impute that perhaps a large collection of skeletons adorn the cupboards of the honchos of India Inc.
Guns, germs and steel
The costs of not speaking truth to power are very high for any society. Let us not forget that potentially, the entire planet could have been saved from the devastation of the coronavirus had more people joined Dr Li Wenliang and spoken out. Li Wenliang was the sole brave doctor in Wuhan in China who had warned others of the novel coronavirus in December 2019. His voice was muzzled by the Chinese government and the others in his medical fraternity did not join him in speaking up. The whole world is paying a humungous price for the suppression of Wenliang's freedom and the cowardice of his fellow doctors.
India today faces a 'guns, germs and steel crisis', to borrow from the title of Jared Diamond's classic tome on the evolution of societies and nations. We have Chinese guns at our border, the threat of virus 'germs' in our bodies and the risk of industries in bankruptcy. It is arguably the gravest confluence of a health, economic, humanitarian and military crises in independent India's history.
No one leader can steer the nation through this calamity on his own, however supreme he may be. It needs the wisdom of many. From the disastrous decision to demonetise the nation's currency overnight to imposing a reckless lockdown in four hours, India has paid dearly for rash decisions taken by PM Modi at critical junctures. The reluctance of the nation's privileged, who are equally affected by these impetuous decisions, to speak up, has cost the country immensely. The price of such continued silence by the elite in such times can be catastrophic, both for their narrow self-interests and for the nation at large. As Martin Luther King said, there comes a time when silence is betrayal.
The author a political economist, senior office bearer of the Congress party & an ex 'corporate honcho'. Views are personal.
https://theprint.in/opinion/india-has-a-guns-germs-and-steel-crisis-but-india-inc-rather-stay-silent/438950/